Virtual Reality Training Simulator
Ensuring operator compliance and competency in a safe and controlled environment.
As Europe's leading provider of powered access training, Nationwide Platforms has invested in ground-breaking virtual reality simulators to complement its extensive range of work at height training courses.
This pioneering new technology has been designed to allow operators to experience a true-to-life look and feel of operating an access platform in a safe and controlled environment. With 32 scenarios covering both scissor lifts and boom lifts, our virtual reality courses provide a fully immersive and realistic experience featuring high risk manoeuvres to test operator skills whilst providing our trainers with live operator performance metrics and tracking on driving skills, behaviour and safe operation.
Our courses cover four main principles:
Introduction to Powered Access – an entry level course that highlights the uses and risks around using powered access for new users.

Operator Mid-term Assessment – IPAF card holders are put through various scenarios to refresh and re-familiarise themselves with the safe operation of boom lifts and scissor lifts. As well as highlighting any potential training needs, operators will also receive updates on the latest guidance and regulations.

Operator Skills Assessment – experienced IPAF card holders are put through scenarios of increasing difficulty to demonstrate competency. They are also able to practise site-specific applications in preparation for being on site.

Risk Awareness Workshop - for anyone who plans, supervises or manages working at height activities to gain an appreciation of the risks that operators face and the control measures that can be implemented.
The benefits of utilising our state-of-the-art Virtual Reality Training Simulators include:
Operators familiarised with MEWP use

Safer, more experienced operators

Practice in responding to risk

Reduction in the number of accidents on site

Reduction to damage to buildings and equipment

High Risk operating scenarios in a risk free environment
Mobile Training Centre
Our mobile training centre is ideal for transient sites, where the contractors dont have the facilities for on-site training. The fully equipped mobile office not only features a VR Simulator, but is also kitted out with everything you could need to complete further IPAF compliant courses.

Features
Virtual Reality MEWP Simulator zone

Tables and chairs for up to 8 delegates (IPAF compliant)

Air con unit, 40" LED TV, kitchen, power sockets for laptops, USB charging points

7.5T truck, hydraulic stabilisers, powered by onboard generator or 240v supply​

CLOCS & FORS Specification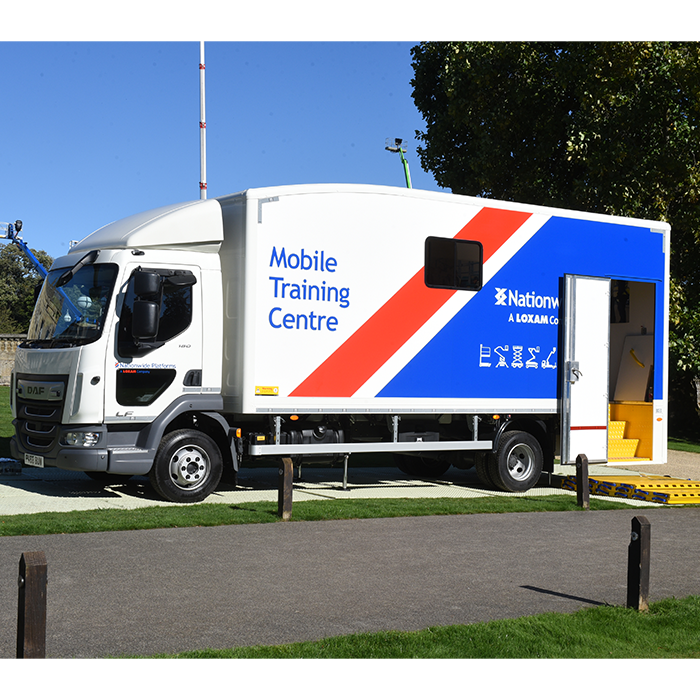 Book a Virtual Reality Training Course
With 32 scissor and boom lift scenarios designed to allow operators to experience a true-to-life look and feel of operating an access platform in a safe and controlled environment. Conducted at our training centers or on-site, please contact ask one of our training consultants for full details.
Enquire now